Choir Directory
Choirs by Night
Choirs by Locale
Choir Auditions
PLAN YOUR CONCERT-GOING
Concert Calendar
MAKE CONNECTIONS
Info Exchange
EXPLORE RESOURCES
Links Collection
ADVERTISE
VAN Ads
SUPPORT VAN
Sustaining Membership
Spread the word
VAN Store
COMMUNICATE
Feedback
Lists
Submit concert listings
Submit other information
About VAN
VAN Report
---
Just a small sample
from our Links Collection.
New York Choral Consortium
Kent Tritle's The Choral Mix (on WQXR)
Chorus America
NYC Music Spaces
ChoralNet
New York Region A Cappella Calendar
New York regional a cappella newsgroup
Gotham Early Music Scene
The New York Times
CASA
New Music Box choral blog
Google Groups search: a cappella
---
Chorus America's national study, released February 2003, finds 28.5 million Americans singing in choruses and estimates the number of choruses in the US to be 250,000.
Help spread the word! Download, print and distribute the VAN Card from our Spread the Word page.
Brahms: The view from the keyboard
Posted 3/5/2014
Cathy Venable and Steven Ryan are both seasoned accompanists and accomplished solo pianists; Steven has been accompanist for The Dessoff Choirs since 1997, and is a regular soloist in concert halls across New York and New Jersey. Cathy is a frequent Broadway pianist, as well as being a staff accompanist at New Jersey City University. The pair will be playing alongside each other in Dessoff's March 9 concert, "Brahms the Revisionist," accompanying the choir in a four-hand version of the famous German Requiem and playing the precursor to the F Minor Piano Quintet, the little-heard Sonata for Two Pianos, Op. 34b. The pair sat down with Dan Stewart to explain the background to the program, how it feels to play these unique works on the piano, and the joy of playing together. More...
ORTUS International New Music Competition: The face behind the music
Posted 2/14/2014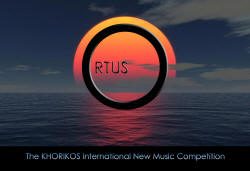 How often do people get to know the face behind the composition? KHORIKOS is bringing some personality to its upcoming ORTUS International New Music Competition by revealing the faces behind the music and creating a direct connection between artist and audience. As we approach the March 8th performance showcasing the compositions of ten brilliant living composers from around the globe, KHORIKOS will be sharing behind-the-scenes footage and personal interviews of the composers and their works to be performed, along with some preview recordings of their music. "We would like to draw our audience closer to KHORIKOS and to the composers themselves, so that people will already be engaged when they arrive for the performance. We hope that it will create a whole new sense of community within the new music world," says Vanessa Hylande, chief executive of Dorian Artists, KHORIKOS's parent organization. More...
Want to see more coverage of the vocal ensemble community? You can help! See your feature article here. You'll gain valuable exposure as a writer about vocal ensemble music and your group will benefit from the PR. Submit proposals for approval to the editor.
---

VAN welcomes news of interest to the vocal ensemble community. Send stories to the editor.
View Stacy Horn's TEDx Montclair talk about the benefits of choral singing at bit.ly/1alfPcT.

(2014-2-7)

Cerddorion Vocal Ensemble is pleased to announce the winners of its 2014 Emerging Composers Competition: Steven Serpa (Coventry, RI), was awarded first prize; Joshua Fishbein (Los Angeles, CA) and Theo Popov (New York, NY) shared second prize. The premieres of all three works will take place in performances at 8:00 PM on March 1, 2014, at St. Paul's Church in Brooklyn (199 Carroll Street) and at 8:00 PM on March 8, 2014, at St. Michael's Church in Manhattan (225 West 99th Street). For more information, please see www.cerddorion.org.

(2014-1-20)

Choral composer Steven Sametz, artistic director of The Princeton Singers, has been named the recipient of the 10th Raymond and Beverly Sackler Music Composition Prize presented by the University of Connecticut, a $25,000 award to compose a new work for a specific area of musical arts that will be performed and recorded.

(2013-10-15)

The Greenwich Village Singers are now the Greenwich Village Chamber Singers.

(2013-7-31)

The Board of Directors of The Empire City Men's Chorus, under the leadership of Board President Jeremy Davidson, has announced the retirement of ECMC Artistic Director Christopher Clowdus after five years of distinguished service and programming. In conjunction with Mr. Clowdus's retirement, the Board has initiated a search for a new artistic director. See the ad in the Info Exchange for more information.

(2013-7-16)
---
Subscribe to VANupdate. Receive twice-monthly updates about new content on Vocal Area Network. Get the latest news items, upcoming vocal ensemble events, the most recent postings to the VAN Concert Calendar, new site features and updates to Choir Auditions, the Choir Directory and the Info Exchange. Sign up here.
---

The latest additions to the site's content and features.

Archive of old "New on VAN" items
---

See also the Info Exchange.
Need some exquisite beaded jewelry to complement your concert attire? Or perhaps a distinctive gift for that special singer in your life? Or maybe you'd like to host a jewelry show to benefit your favorite non-profit organization? Try Carnelian Knoll, where you'll find necklaces, bracelets and earrings of vintage beads and silver handcrafted by Julie Siegmund.
Looking for rehearsal space or performance venues? Try NYC Music Spaces, New York City's free database of available rehearsal and performance spaces for instrumental and vocal musicians. You'll find places to rent, from studios to large venues, for classical, jazz, rock--whatever you need to rehearse or perform in NYC.
Looking for an outstanding vocal ensemble coach? Mark Johnson, possessor of an amazing ear and terrific interpretive insights in a variety of styles, is available to coach your group. To arrange for Mark's services, e-mail Colette Thompson.
Liz Fleischer's Sight-Singing Program is offered each season at the Kaufman Center (129 West 67th Street). Classes include ear-training, rhythm and pitch reading, music theory, basic notation and terminology, with emphasis on learning to hold a part with confidence. For more info, visit www.kaufman-center.org/lucyadults_mus_sight.htm, e-mail fleischerliz@aol.com or adultdivision@kaufman-center.org or call (212) 501-3362. The sight-singing program is just one of the classes offered by the Kaufman Center's Lucy Moses School.
---
Your purchases from our affiliate vendors help support VAN. VAN receives a referral fee on everything you buy. Just click through from our site and you'll be supporting VAN at no additional cost to you.
For our book and CD recommendations, visit the VAN Store.
---
VAN gratefully acknowledges the support of the following Sustaining Member ensembles:
GOLD: The Dessoff Choirs, Grace Church Choral Society, The West Village Chorale
SILVER: Big Apple Chorus, The Brooklyn Community Chorus, The Brooklyn Contemporary Chorus, The Canby Singers, The Cecilia Chorus of New York, Dalton Chorale, Florilegium Chamber Choir, Greenwich Village Chamber Singers, Riverside Choral Society, St. George's Choral Society, Schola Cantorum on Hudson, The Stonewall Chorale
Americas Vocal Ensemble, AmorArtis, The Babylon Chorale, C4: The World's First Choral Composer/Conductor Collective, Cantabile Chamber Chorale, Cerddorion, Chorus 802, Christ Church Choir, Douglas Frank Chorale, Down Town Glee Club, Lehman College and Community Chorus, New Amsterdam Singers, The New Choral Society, New York Choral Society, Renaissance Street Singers, Renaissance Vocal Ensemble, Riverdale Choral Society, Russian Chamber Chorus of New York, Sacrum Convivium, St. James' Compostela Choir, St. Paul's Englewood, Sing We Enchanted, Uncommon Chord, Voices of New York, Women Singing
For more about how you or your ensemble can help defray the costs of providing VAN's services,
visit the Sustaining Membership page.