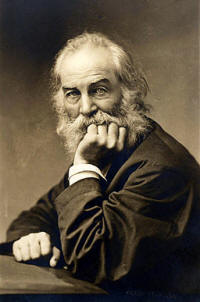 The Dessoff Choirs continues its 94th season with "Whitman and the Civil War," a spring concert inspired by the American poet and journalist Walt Whitman (1819-1892) and his relationship with the Civil War. As part of a season-long celebration of Whitman's bicentennial, Dessoff's 50 singers will perform exquisite choral settings of Whitman's poetry by Van, Clausen, Weill and Stanford as well as the world premiere of Ian Sturges Milliken's Whispers of Heavenly Death.
When Whitman's brother was wounded in the Civil War in 1863, Whitman moved from Brooklyn to Washington to help in the overcrowded Union military hospitals. Though he had no military or medical training, Whitman comforted wounded troops with his poems, stories, songs and the chores he would dutifully perform well past his appointed shift. Whitman later said that being around suffering soldiers had been beneficial to him, as it somehow restored his own faith in humanity. Many of the ideas in his poetry, about the nobility of common people and the democratic ideals of America, he saw reflected in the wounded soldiers who had been farmers and factory workers.
"Whitman found a new purpose and inspiration for his art," says Malcolm J. Merriweather, ninth Music Director and conductor of The Dessoff Choirs. "The poetry Whitman wrote had always been inspired by the changing world around him, and so his eyewitness experience of the Civil War naturally began to infuse new poems. He continued to write during and after the war and subsequently inspired many composers."
Known for singing with conviction, expressivity and passion, The Dessoff Choirs performs several works by composers including Charles Villiers Stanford's Elegiac Ode, a setting of Whitman's elegy on the death of Abraham Lincoln; René Clausen's Three Whitman Songs; and Jeffrey Van's four-movement song cycle, A Procession Winding Around Me: Four Civil War Poems. Also, Maestro Merriweather will step off the podium to perform the wonderful, little-known Four Walt Whitman Songs of Kurt Weill. Bach's funeral motet, Der geist hilft unser Schwachheit auf, Dessoff's final installment (over three seasons) of his six motets, rounds out the program.
The program's capstone is the world premiere of Whispers of Heavenly Death by Ian Sturges Milliken (born 1984), written for soprano soloist, choir and piano. Set to text of Whitman's poem of the same name written after the end of the Civil War (1868), the work has a forward, flowing motion with an inevitability that is propelled by the poetry. According to Milliken, the poem's sense of the ultimate end "became an ostinato that sustains throughout the piece but changes slowly as the poem flows through its varied perspectives on the concept of one's own approaching death: the mysterious, the mystical, the ominous and, finally, the accepting embrace of a divine rebirth."
The concert will be introduced with a pre-concert talk by renowned Whitman scholar Karen Karbiener, Ph.D., Clinical Professor at New York University and co-director of the 2019 Whitman Consortium, a collective of east coast organizations, institutions, venues and individuals planning events in celebration of the poet's 200th birthday, of which Dessoff is a member.
Whitman, who was born May 31, 1819, is one of the most influential voices in American—and world—literature. "He was an American icon whose life and works have been an inspiration for artists and musicians everywhere," explains Merriweather. "His is a kind of distinct and distinctive American voice that has brought joy to so many people in our country and around the world." Although many great writers have contemplated the power of music, few have articulated it more perfectly or more sensuously than Whitman. He wrote of music as "a god, yet completely human… supplying in certain wants and quarters what nothing else could supply." Not only was Whitman outspoken in his love for music, he also inspired over 500 composers to draw from his work. "Many composers have been attracted to Whitman's exuberant spirit, democratic ideals, and timelessness," adds Merriweather.
Dessoff performs "Whitman and the Civil War" on Saturday, March 9, 2019, at 4:00 PM (with the pre-concert talk at 3:15 PM) at Union Theological Seminary, 3041 Broadway, New York, NY. Tickets are $20-$40 in advance; $25-$45 at the door. Tickets are available at dessoff.org.
About The Dessoff Choirs
The Dessoff Choirs, one of the leading choruses in New York City, is an independent chorus with an established reputation for pioneering performances of choral works from the Renaissance era through the 21st century. Since its founding in 1924, Dessoff's mission is to enrich the lives of its audiences and members through the performance of choral music. Its concerts, professional collaborations, community outreach, and educational initiatives are dedicated to stimulating public interest in and appreciation of choral music as an art form that enhances the culture and life of our times. With repertoire ranging over a wide variety of eras and styles, Dessoff's musical acumen and flexibility has been recognized with invitations from major orchestras for oratorios and orchestral works. Past performances include Britten's War Requiem and Mahler's Symphony No. 8 with Lorin Maazel in his final performances as Music Director with the New York Philharmonic. Over the course of its 94-year history, Dessoff has presented numerous world premieres, including pieces by Virgil Thomson, George Perle, Paul Moravec and Ricky Ian Gordon, as well as the first American performance in nearly 100 years of Montemezzi's opera La Nave with Teatro Grattacielo; and the American premieres of Philip Glass's Symphony No. 5 and Sir John Tavener's all-night vigil, The Veil of the Temple. Dessoff's recent discography includes Reflections, featuring music by Convery, Corigliano, Moravec and Rorem, and Glories on Glories, a collection of American song featuring composers ranging from Billings to Ives. Please visit dessoff.org for more information.
Editor's note: adapted from a Dessoff press release.
---
April Thibeault is the founder and president of AMT Public Relations.