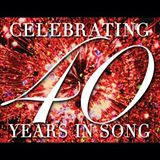 Florilegium Chamber Choir begins celebrating its 40th anniversary in 2015 with two upcoming Manhattan concerts entitled "Wholly Mozart" at Trinity Lutheran Church (full program) and the Cathedral of St. John the Divine (selections) on November 22 and December 13, respectively.
The Manhattan-based ensemble formed in 1976 under the imaginative directorship of JoAnn Rice, before several of today's Florilegium Chamber Choir members were even born! It started with about twenty dedicated young singers coming together for Sunday rehearsals in the upstairs choir room of Gustavus Adolphus Lutheran Church on East 22nd Street. One choir member recalls it was "such a steep climb up a winding staircase …good exercise but hard if one was late to rehearsal." Several members remember a brief stint rehearsing in a small loft on West 25th "where we all provided our own folding chairs tagged with our names." The denizen's music-loving cat would climb up the exposed brick and pipes, then crash to the ground at inopportune moments. The lucky altos sometimes had their sectionals in a member's swank East 60's townhouse. The repertoire was as broad and ambitious in those days as it is today. Members fondly remembered Florilegium performances in conjunction with notable instrumental ensembles at Carnegie Hall and Merkin Concert Hall. Alice Tully Hall was the venue for Bach's St. John Passion, a concert The New Yorker's Andrew Porter praised and The Daily News cited as the best in the column "Best & Worst of 1985." One singer illustrated the range of the repertoire, recounting, "JoAnn loved putting on musicals. We did fully-staged productions of A Little Night Music and Kiss Me Kate."
The group's second director (2009-2013), Nicholas DeMaison, continued to stretch the group with challenging music from the past as well as the contemporary, featuring composers like Arvo Pärt and Reiko Füting. Florilegium Chamber Choir has a forty-year history as an incubator of new music, commissioning and premiering pieces by Judith Lang Zaimont, Hugo Weisgall and Donald Grantham to name but a few. There has always been a wide range of backgrounds and breadth of experience within Florilegium Chamber Choir. Happily, there is a continuum, in that over a quarter of the Florilegium's current membership has been with the group for more than twenty-five years.
In 2014, FCC chose its third director, Manhattan School of Music's Dr. Ronnie Oliver, Jr. Under Dr. Oliver's strong leadership, each piece the ensemble performs is infused with a fresh, intelligent spin – a repertoire extending from the 12th century to the 21st century. The ensemble tailors its sound and style to standard repertoire as well as new music. Staying true to its roots, Florilegium has commissioned American composer Richard Burchard to write a piece in celebration of its 40th anniversary. This piece will be premiered at the chamber choir's May 2016 concert at its beloved home space, Trinity Lutheran Church on Manhattan's Upper West Side. Come and join in the celebration! Visit Florilegium's web site at www.florilegiumchamberchoir.org.
---
Rebecca Fasanello sings with Florilegium Chamber Choir.