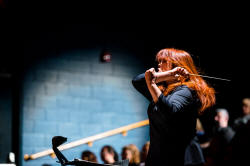 The New Jersey Choral Society is pleased to announce Dr. Lauren Fowler-Calisto as its interim Artistic Director and Conductor through the end of the NJCS 2019-2020 season. Currently an Associate Professor and Director of Choral Activities at William Paterson University in Wayne, NJ, Lauren conducts the WPU Concert Choir and Chamber Singers and directs the Honors music track, in addition to teaching conducting and courses in music education.
Raised in Porterville, CA by adoptive parents, Lauren's mother Linda tracked down her birth mother's family about twelve years ago. Ironically, she learned that both grandmothers had been professional classical musicians, one a vocalist and the other a pianist. No wonder that music and singing have always been an integral and significant part of Lauren's life. Although she didn't track down her birth parents until about twelve years ago, and her family always supported her music career, she feels that she owes her musical skills and talents, as well as her passion and love for music, to both of her birth grandmothers. Their musical abilities transcended generations and unknowingly inspired her to pursue a professional career path in music as well.
Lauren's remarkable music career began in middle school choir and continued throughout high school, when she sang in the award-winning Chamber Choir touring Japan, Taiwan and Hong Kong during her senior year. She also sang in the Youth Choir at the Nazarene Church in Porterville, CA for several years. Her church Youth Choir toured throughout California every summer to several churches. She says, "The training I received in these ensembles set the stage for what was to become a lifelong career in music, but I didn't know it at the time."
Aside from singing, she played the flute in grades 5-7 and then the folk guitar for several years. She was also the captain of the Color Guard in her 400-piece high school Marching Band, which played half-time shows for the Oakland Raiders, toured Ireland and marched in the famous Rose Parade in Pasadena, CA. At Concordia College in Moorhead, MN, she also studied piano and voice.
Experimenting with several majors including forestry, pre-law, physical anthropology and pre-med, first at Porterville Community College for one year, then at Concordia College in Moorhead, Minnesota, Lauren settled on music education during her junior year. She sang in the Concordia Choir under the direction of Paul J. Christiansen, who taught her the old guard Lutheran choral traditions. She continued her music education in the Master of Music program at the University of Arizona, where she sang in the Arizona Chamber Choir. Lauren recalls, "Music was a corporate experience in this Chamber Choir, because most of the members were studying conducting or professional voice. It changed my life and helped me develop my philosophy about music." She discovered conducting as an instrument and art form during her Master's program and, ultimately, received a Master of Music Performance degree in Conducting while performing lead and supporting roles in several operas.
While pursuing her Doctor of Arts degree in Choral Conducting, with a cognate in Vocal Performance and Pedagogy and a teaching assistantship in the internationally recognized jazz program at the University of Northern Colorado at Greeley, Lauren "began to find her way into corporate music making and had the opportunity to develop her skills and confidence in choral conducting." When asked about her philosophy or style of choral conducting, Lauren says, "My primary goal is always -- what's the composer's intent? Written out music is an imperfect language. Score study, and the intense study of musical styles, time periods and genres is the way to understanding what the composer was hearing in their mind's eye. It's our corporate job as musicians to try and allow the music to 'fly off the page and soar into glorious sound' as quoted by the now deceased conducting pedagogue, Elizabeth A.H. Green." She feels that conductors were once the focus point of performances, but now "they have become the lens, or prism if you will, through which the music is transmitted from performers to audience, allowing all participants, both onstage and off, to experience the music together."
After public school teaching positions in grades 5-12 in Oregon and Littleton High School in Colorado, Lauren's collegiate music career began when she was appointed the Assistant Director of Choral Activities at the University of South Dakota. After short teaching terms at St. Norbert College and Iowa State University, she became the Director of Choral Studies at Christopher Newport University in Newport News, VA, a position she held for 15 years. She then served as the Associate Director of Choral Activities in the School of Music at the University of Southern Mississippi. Her collegiate choirs have performed throughout Europe in such prominent cathedrals as St. Peter's Basilica in Rome, Basilica San Marco in Venice, La Madeleine in Paris and Westminster Abbey in London.
When she is not conducting or teaching music courses, Lauren enjoys adopting and raising golden retrievers, which are the joy of her life and keep her sane when everything in her profession becomes chaotic. She also loves to travel all over the world and has been to some unusual places. This past summer, she traveled to both Morocco, Africa and Colombia, South America presenting at conferences and teaching jazz.
Dr. Lauren Fowler-Calisto will conduct the New Jersey Choral Society on Friday, March 6 at 7:30 PM and Saturday, March 7 at 3:00 PM as they present the "Pops Spectacular Fire and Rain – Forces of Nature" at the West Side Presbyterian Church, 6 South Monroe Street, Ridgewood, NJ. The program includes popular hits inspired by the elements of fire and rain featuring music by Prince, James Taylor, Adele, Katy Perry, Toto, Earth, Wind and Fire and many other pop icons. Tickets are $30 for adults and $25 for seniors and students. Special prices are available for patrons with disabilities, children, groups and Families First Discovery Pass holders. To obtain more information or purchase tickets, visit www.NJCS.org or call the New Jersey Choral Society at (201) 379-7719.
---
Ethan Galvin is the publicity director for the New Jersey Choral Society.