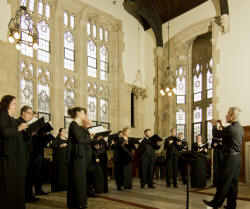 Thirty-five years ago, when John Bertalot left his post as organist at Blackburn Cathedral in England to become Music Director at Trinity Church, Princeton, he brought with him a plan to found what became The Princeton Singers. How this plan has blossomed! Selecting members from the Trinity Choirs as well as other fine amateur singers, he envisioned a choir that would sing primarily English Cathedral Music as well as madrigals and folk songs. Under his direction, The Princeton Singers developed a reputation for "excellent tuning, impeccable control, and subtly nuanced phrasing," a reputation that continues today.
While Bertalot was Director, the group sang at national conventions of The American Guild of Organists and the Association of Anglican Musicians. The ensemble made three tours of English Cathedrals, singing services and concerts at Westminster Abbey, St. Paul's Cathedral, Kings College Cambridge, St. George's Chapel and Windsor Castle, among other notable venues. Above all, John Bertalot planted the seeds that have grown into today's Princeton Singers.
In 1998, when Bertalot retired and returned to England, the group faced the difficult task of selecting a new artistic director. Initially, The Princeton Singers had been singer-managed with no professional help. During this transition, they hoped to grow into a more professional organization and to broaden its repertoire.
Enter Steven Sametz. After many interviews and rehearsals led by potential candidates, Sametz was selected with the specific directive to cultivate a greater variety of musical experiences for the group and its audience. His background as professor of music at Lehigh University, founder-director of the Lehigh University Choral Union, guest conductor for groups including the New York Chamber Symphony and the Santa Fe Chorale, as well as his reputation as "one of the most respected choral composers in America" made him the perfect choice to enrich the experience of the Singers.
This year, as The Princeton Singers celebrates its 35th anniversary, the group also celebrates the good fortune to have grown under Sametz's twenty years of inspired leadership. Over the years, as one might expect, the Singers has been an extraordinary group comprised of professional musicians, teachers and organists. Its members have also included doctors, meteorologists, classicists, baristas, students, school administrators and lawyers, among others. This notable array has grown into a fully professional ensemble and has developed into a choir noted for its versatility and its mastery of works from Bach to Schoenberg, with forays into unexplored and exciting realms such as Aboriginal and Native American ritual music. The annual collaboration with the Princeton University Art Museum allows the Singers' range and Dr. Sametz's creative programming to pair the likes of Rothko with Ligeti and Jasper Johns with John Cage.
The Princeton Singers is also a vital force in the commissioning of new choral compositions. Each season, it presents a new work by Sametz. For its 30th anniversary, it premiered works written for the Singers by Steven Stucky and A.J. Kernis, both Pulitzer Prize-winning composers. The Singers also serve as choir-in-residence for the biennial Lehigh University Summer Choral Composers Forum, founded by Sametz and co-sponsored by the American Choral Directors Lehigh Association, to foster new choral music in America.
In addition to giving popular hometown performances, The Princeton Singers has been featured at the American Choral Directors Association and Chorus America. Sametz has led the ensemble in collaborative concerts with Chanticleer, The American Boychoir, Westminster Choir College's Schola Cantorum, The Princeton Symphony Orchestra, Lehigh University Choral Arts and the Princeton Girlchoir; it also has been heard on National Public Radio's "Performance Today" and "With Heart and Voice."
The Princeton Singers has made six recordings with Sametz. They include "Reincarnations," "Christmas with The Princeton Singers," "Old New Borrowed Blues," "I Have Had Singing," "A Child's Requiem," written by Sametz in memory of those who were slain in the Newtown school massacre, and "To the Stars," a collection of additional Sametz compositions. In September of 2016, the ensemble was the featured guest choir at the 2016 Shenzhen Choral Festival in Shenzhen, China. While in China, the group also participated in several workshops and was part of a "flashmob" held in the Shenzhen Cultural Center, which included singing Beethoven's Ode to Joy in Chinese accompanied by dulcimers. The group is nothing if not flexible!
The Princeton Singers will present its final concert of the season on Saturday, May 19, at 8:00 PM at Trinity Church in Princeton. "Make Our Garden Grow: 35th Anniversary Concert" will include repertoire from its British Cathedral roots to Broadway, from Stanford and Britten to Sametz and Sondheim. For more information, visit www.princetonsingers.org.
---
Kal Sostarecz is the executive director of The Princeton Singers.