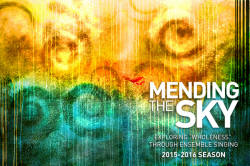 The immigrant experience in America as told through music is the theme of the Schola Cantorum on Hudson choral concert entitled "A Global Tapestry" that will take place on Saturday, May 21 at 8 PM at St. John's in the Village Episcopal Church in New York City and on Sunday, May 22 at 5 PM at the Church of the Immaculate Conception in Montclair, NJ. The concert will be performed by the Schola ensemble comprised of active New York/New Jersey singers and conducted by Deborah Simpkin King, Ph.D, the organization's esteemed Artistic Director and Founder.
The program will feature the world premiere of a choral composition entitled One Flock by Jake Runestad. Considered "highly imaginative…with big ideas" (Baltimore Sun) and "stirring and uplifting" (Miami Herald), Runestad is one of the world's most frequently performed and commissioned composers of choral music. He's been dubbed a "choral rock star" by American Public Media and is noted for his versatility and expressive capabilities with music driven by soaring melodies, driving rhythms and lush textures. Mr. Runestad will attend the concert on both Saturday and Sunday evenings and speak to the audience before the concert begins. There will be a wine and cheese reception following Saturday night's concert at St. John's in the Village.
In addition to the debut, there will be performances of beloved immigration-themed musical compositions, including Irving Berlin's Give Me Your Tired, Your Poor; Brendan Graham's Isle of Hope, Isle of Tears; Ysaye Barnwell's Would You Harbor Me?; and Ronald Perera's The Golden Door. In a special multimedia presentation during The Golden Door, the names of actual immigrant families submitted ahead of time by Schola patrons will be substituted for the names in the original score and spoken as part of the cantata. Mr. Perera will attend the concert on Saturday night.
"In this concert we continue to explore musically the themes of global unity and wholeness through the lens of immigration and celebrate the diversity that exists within our communities, our country and our world," says Dr. King. "We believe that high quality, passionate music has a unique power to affect the human heart and spirit, inviting each of us to become more fully aware, mindful individuals. We hope concert goers are delighted and inspired by this musical experience and gain a deeper understanding of their own immigrant heritage and what it means to be a patriot in our international community."
The Jake Runestad piece was commissioned by Schola as part of its new music initiative, the centerpiece of which is PROJECT : ENCORE™, the international advocacy initiative headed by Dr. King that promotes post-premiere performances of new music. Runestad has received commissions and performances for leading ensembles such as Seraphic Fire, the Louisiana Philharmonic Orchestra, the Dayton Philharmonic Orchestra and the Cincinnati Vocal Arts Ensemble.
"A Global Tapestry" will be presented on May 21 at 8 PM at St. John's in the Village, 224 Waverly Place Greenwich Village, New York City, and on May 22 at 5 PM at Church of the Immaculate Conception, 30 North Fullerton Avenue, Montclair, NJ. Following Saturday's concert at St. John in the Village, there will be a wine and cheese reception. Both concerts will include companion media for smart electronics.
Tickets for both concerts can be purchased in advance on the Schola website for $20, or at the door for $25. Children 12 and under are admitted free of charge. For tickets, to submit immigrant names for inclusion in the program or for more information go to www.ScholaOnHudson.org or call 888-407-6002 x5.
About Schola Cantorum on Hudson
Schola Cantorum on Hudson is a choral ensemble founded in 1995 by Deborah Simpkin King, PhD, as an independent nonprofit organization. The internationally recognized new music initiative, PROJECT : ENCORE™ was founded through Schola and the organization supports a multi-pronged education and engagement program in addition to its performing activities. Schola performs its entire season in both Manhattan and Montclair, New Jersey and draws singers from eleven counties throughout New York and New Jersey. Schola is supported by the New Jersey State Council on the Arts, the Marjorie Bunnell Foundation, and many other generous individuals, foundations and business partners.
About Deborah Simpkin King, Ph.D
Deborah Simpkin King, Ph.D, is the Founder and Artistic Director of Schola Cantorum on Hudson (Schola), a pro-am choral ensemble, and of PROJECT : ENCORE™. A resident of East Orange, NJ, Dr. King is the Chairman of the New York Choral Consortium and Interim Director of Choral Activities at William Paterson University. She also serves as Director of Arts Ministry at Trinity and St. Philip's Episcopal Cathedral in Newark, NJ. Known as a visionary conductor, educator and advocate of new music and the choral community, Dr. King is a frequent presenter at professional conferences and active as a guest conductor and teacher of master classes and choral workshops.
---
Kathleen Engles handles press for Schola Cantorum on Hudson.