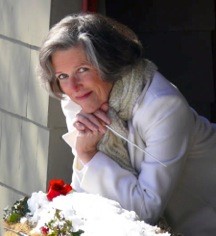 Schola Cantorum on Hudson, founded by Dr. Deborah Simpkin King in 1994, celebrates its 20th anniversary this season (2014-15) with three self-produced concert sets (each with performances in New York City and New Jersey), including the east coast premier of John Muehleisen's oratorio, Pietà, in March of 2015. The season theme is "We Have Had Singing!" The power of music in different facets of the human experience is the focus of the December concerts; and May concerts draw upon favorite repertoire from Schola's 20 seasons. This year also happens to be the fifth anniversary of PROJECT : ENCORE™, the widely acclaimed database of new, post-premiere choral compositions, founded in 2009, under the SCH organizational umbrella. I had the pleasure just recently of interviewing Dr. King in the West Village.
Stephany Boa: You've had a busy summer, from running the NJ-ACDA (American Choral Directors Association) High School Choral Festival and working with the NY Choral Consortium board, to planning Schola's 20th season and devoting time for your private voice and conducting students. How on earth do you do it?
Deborah King: I work many hours. I truly believe with every fiber of my being that music has the power to reach into the human soul in ways that both deepen and enliven the human journey. Bringing that forward is what I believe I'm here for -- why I was put on earth at this particular time. It is the focus for all I do, and it energizes me! There isn't a day I don't awaken excited for my work -- which doesn't mean everything always goes right or smoothly.
SB: But having had the fortune to work with you as a singer in Schola, I can say that I love working with you because of that dedication you bring to the quality of the music. You're truly a scholar of music, and being part of Schola has gone far beyond just singing -- it's been a real education in music.
DK: (smiles) Why, thank you. I knew I was to be a conductor from a young age and feel very fortunate to have known so early on. That focus guided my path through three seemingly different degree directions, each of which was selected, however, for what I believed it would contribute to the ensemble art. When it comes to performance, I believe that whether we're looking at rhythmic precision, or intonation, or legato line, the basis in getting a good result is in the healthy use of the voice; hence, the degree in vocal performance. By the time a PhD direction was selected, what I wanted more than anything was a greater depth of understanding of music through analysis, through history, through study, so I obtained my doctorate in musicology.
SB: What's it like for you to celebrate the 20th year of Schola this season?
DK: Schola is my musical offspring because it is the group I founded. I've been blessed with very supportive boards over the years that have enabled us to take innovative directions. New York has a lively choral culture with many fabulous groups! Schola has a niche all its own that lies somewhere in a mix of the concert hall, the yoga studio, and a place of worship. It doesn't have a defined box. We are based both in New York and New Jersey. The whole concept of contextual programming, of bringing pieces that are new to the audience's ears but in a uniquely accessible way, is something we are very intentional about. Whether a piece is two months or six centuries old -- both styles may be new to the audience's ear. In our programming, we seek to provide a "way in" to an experience that will touch them -- then it's up to them to figure out where that belongs in their life. To look back on the 20-year evolution of this organization is to feel deeply humbled to share such bold vision with so many marvelous people.
SB: How do you make choral music exciting for people without compromising artistic integrity?
DK: Fundamentally I believe vibrant, well-crafted choral performance of high quality simply IS exciting! The only thing needed to "water and feed it" is to continually hone our craft and deepen our art. Nonetheless, we cannot avoid asking ourselves, in this age of universal e-access, why someone should go to a concert hall and pay money to do so, when h/she can access the same music online? We're asking questions like, "Can there be an element in which music, and particularly vocal music, can provide community-building life-elements?" It's part of our mission to find out in our third decade!
In the meantime, we are experimenting. For example, Schola added an optional visual element for its audiences last season with an e-media component uniquely designed by an ad hoc Creative Media Team to complement the live performance. We told our audience, "keep your cell phones on," then guided them into access. This idea emerged organically out of the question, "How do you get children here and keep them (and their parents!) happy through an 80-minute concert?" Cool, isn't it! (Families weren't the only ones who enjoyed it!) And this isn't to say that new ideas like the optional media element will come to define all our concerts, but I always believe in embracing what is new. I looked at how technology can connect us and sought to leverage the technology for that use.
SB: Schola has been described as a "performance, education and advocacy organization" with "socially conscious programmatic vision." What does that mean to you?
DK: Everything to do with this group has emerged organically, with commitment to high quality performance and meaningful educational offerings coming into existence together, right at the start. Our performing history is well documented, and graduates of our education programs are successfully working in the music profession. The most visible element of our new music advocacy is PROJECT : ENCORE™. There is nothing like it. We saw a need for it, and made it happen, and now it has international reach.
I think that art emerges from our world, hopefully in ways that can then reflect back to our world a beauty of vision. I think beauty cannot be separated from integrity, from health, from human connections in ways that feed us, and that's what I think art is for.
-----------------------------------------
And just as our interview was about to end, there came a sound of the bell at the door. It was Dr. King's conducting student.
---
Stephany Boa, also known as Stephanie Susberich, sings with Schola Cantorum on Hudson.